A poem of mine, '
I hear you singing in the next room
' is the Tuesday Poem over at the hub blog this week! Thanks so much to Janis Freegard for selecting it. It was published in
My Iron Spine
.
There's also a poem of mine, '
Vana's life, as directed by Krzysztof Kieślowski and Ray Harryhausen
', in the just-launched issue of 4th Floor Literary Journal, which is published by Whitireia Polytechnic and edited by the very lovely and talented Hinemoana Baker. This poem came to me, or started to come to me, when I thought I'd already finished the manuscript for
Cinema
, and so was a late arrival. And actually it arrived in two parts - I had the beginning, but didn't know where it would go, or even if it needed to go anywhere - it could have stayed an almost haiku. But a few months later I sat with it again and the rest turned up. It seemed a good ending poem - a goodbye-to-the-project swansong. And I've put it near the end of the book - though not the very end.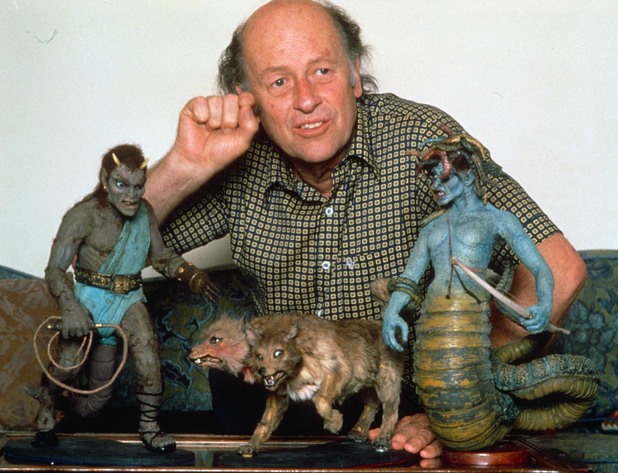 Ray Harryhausen and some of his creations
Subsequently I've seen quite a few more Ray Harryhausen films - he died not long after I wrote the poem. If you're interested in his films, they've been showing a retrospective at The Roxy in Miramar, and this Sunday it's
Jason and the Argonauts
, which
I think might be my favourite of his films. Or maybe that's
Clash of the Titans
... anyway...
There's heaps of other great poems and stories in this special issue of
4th Floor
, which marks the 20th anniversary of the writing course at Whitireia, but also of the publishing course, which I did many mumble years ago and in which I learned heaps of useful things that has kept me in gainful employment and has also helped me with various publishing ventures. I haven't had a chance to read this issue thoroughly, but can see from the contents page that there are heaps of my favourite writers in there, and probably lots of yours too.